CJIA expansion to meet August 2015 deadline
-president hears
The huge expansion of the Cheddi Jagan International Airport (CJIA), Timehri is set to meet its August 2015 deadline.
According to the Government Information Agency, this was told to President Donald Ramotar during a tour of the airport project and the East Bank road upgrading yesterday.
GINA said that Ramotar along with Minister of Public Works, Robeson Benn and Finance Minister, Dr. Ashni Singh and several engineers visited and inspected works ongoing on the East Bank Demerara four –lane road, and the CJIA expansion project.
GINA said that the airport expansion is expected to meet its deadline of August 2015 as works are scheduled to commence on several aspects during the course of this year. The East Bank four-lane expansion has a June deadline.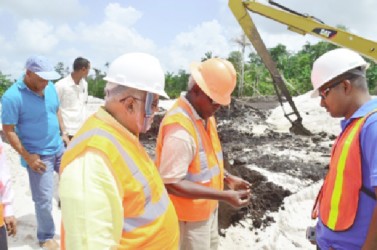 GINA said that Ramotar  inspected three segments of the East Bank road expansion at Mocha, Little Diamond and Diamond New Scheme and expressed satisfaction  with  the works thus far.
Ramotar told GINA that the new airport will bring Guyana up to world class standard.
CJIA's Chief Executive Officer (CEO) Ramesh Ghir said the airport expansion project is proceeding as planned, and the contractor is currently carrying out excavation work.
He added that excavation and back filling works have begun on a test section of 160m x 160m of the runway, which is about 10 percent of the runway extension and this is about 70% complete.
"We anticipate that in a few months we will begin the designs for the terminal building and start construction works on that building," Ghir said.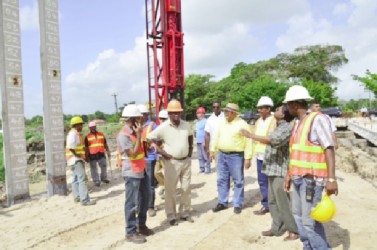 The project is funded by the Government of China through the Chinese Exim Bank. The expansion provides for a new terminal building with eight boarding bridges, elevators and CCTV. The runway will also be extended and there will be eight international parking positions.
Though projections were made about the completion of the project, the opposition has signalled disfavour with aspects of it and voted against allocations in last year's budget. There is also a possibility that the same thing might happen this year. It is unclear how such action will affect the US$138m Chinese-funded project.