Man jailed for 18 years for killing wife in 2010
Godfrey Stewart was yesterday sentenced to 18 years imprisonment for killing his reputed wife four years ago.
Stewart, called 'Dougla' had been charged with the murder of Jacqueline George, a newspaper vendor, after her bound body was found in her 120 'E' Field Sophia home between March 13 and 14, 2010. The home had been set on fire.
On February 14, Stewart pleaded guilty to the lesser count of manslaughter and this was accepted. The defence then applied for a probation report and sentencing was deferred.
Stewart had killed George sometime before the March 13/14 fire and subsequently went into hiding.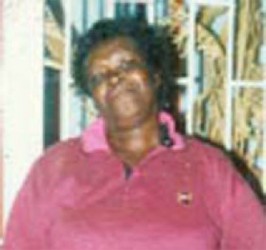 Days later, he turned himself over to the police displaying three stab wounds which he claimed were inflicted by George during a fight, shortly before she was killed. He was then admitted to the Georgetown Public Hospital.
Senior Probation Officer Colleen Anthony from the Ministry of Human Services read a probation report on Stewart to the court presided over by Justice Franklyn Holder.
Attorneys Bettina Glasford, Brandon Glasford, and Maxwell McKay appeared for the accused, while Senior State Counsel Judith Gildharie-Mursalin presented the state's case.