Litterbug jailed for two years for escaping from constable
Jermaine Joel, who admitted to dumping garbage along a city street and later fleeing from a constable who tried to arrest him, will be spending the next two years behind prison walls for his crimes.
Joel, who told Magistrate Geeta Chandan-Edmond that he had no fixed residence, pleaded guilty to charges of dumping and escaping lawful custody.
He accepted the City Constabulary's case that he, on February 26, threw a quantity of Styrofoam and carton boxes, on Church Street, Georgetown. Joel also agreed that he ran away from a city constable on February 28, in the vicinity of the High Court.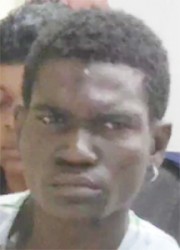 Prosecutor James Garnett told the court that Joel was caught walking along Cummings Street, on March 2, at 7:45 pm and he was re-arrested and brought before the court again.
The magistrate, after hearing that Joel served six months in jail for a simple larceny charge, sentenced him to two years in jail for escaping lawful custody and fined him $15,000 for depositing waste.