Three No.72 Village homes gutted by arson
Three families are now homeless after an early morning fire in Number 72 Village, Corentyne gutted their homes on Friday.
Fire Chief for the `B' Division Compton Sparman told Stabroek News that arson caused the destruction.
The fire reportedly started at the Lot 122 Section B Number 72 Village home of the Hassans. It then quickly spread to the homes of Keisha Joseph and Hemchand Hemraj.
Rajkumar Hassan, 44, said he was awakened by sounds emanating from motor vehicles and believing it was thieves, armed himself with a cutlass and went to check. Instead, he was greeted with scorching heat. He added that when he exited his room, he realised that the entire house was hot. He then raised an alarm and his son, daughter, daughter-in-law and wife escaped from the back shed while he jumped from the veranda.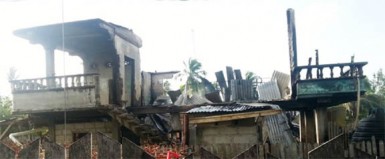 Hassan said he tried to save a vehicle but the heat was too much.
The Hassans estimated their losses to be close to $6 million.
Meanwhile, Hemchand Hemraj of Lot 123, said nothing in his house was saved. The self-employed man related that he too was awakened by the sounds coming from the tapirs and saw his house on fire as well.
Hemraj said he woke up his wife and they escaped. He said they managed to save their minibus, tapir and motorcycle. Nevertheless, he said, their losses were close to $10 million.
Joseph's family was renting the Lot 124 premises from an overseas-based Guyanese. At the time of the fire Joseph and her three children were at home.
She was awakened by sounds coming from the outside, but by the time she realised what was happening, her house was already engulfed. Joseph's spouse was at the time on duty at a nearby primary school. The family's losses are close to $1 million.
Asked about the response of the fire service, residents said that by the time it arrived two buildings were already gutted.
The fire chief told Stabroek News investigations have revealed that the flames originated from a tapir vehicle that was parked downstairs.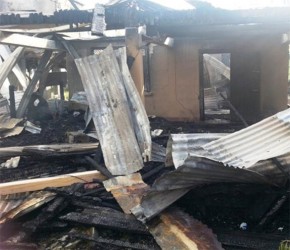 Sparman said that the owner of Lot 122 noticed that his gates were open when he jumped over the veranda.  He told the fire-fighters that he had secured his gate before he retired to bed.
The fire chief noted too that when they arrived on the scene a burnt post fell which prevented them from gaining full access to the area. However, Sparman noted that the Guyana Sugar Corporation fire attendants arrived and assisted but water ran out.
Meanwhile, the fire service is calling on members of the public to keep the number of the fire service at hand. Sparman told Stabroek News that residents contacted the police instead of the fire service. (David Papannah)
Most Read This Week