Businessman fined $20,000 for threatening Colwyn Harding
A businessman was fined $20,000 by a city magistrate yesterday after he admitted to verbally abusing and threatening alleged police rape victim Colwyn Harding.
Silvanus Jasper, 21, admitted that on February 26, at Princes and Adelaide streets, Charlestown, he used abusive language on Harding and acted in a threatening manner.
Jonas Codett, Jasper's lawyer, told the court that his client became irritated that goods meant to be transported to Matthew's Ridge, where his family conducts business, were stolen. He added that Jasper got word that Harding was involved. That, he said, caused the defendant to approach Harding, who was at the Red Thread Building next door to his home. There, Codett said, Jasper "expressed his views" to Harding. He further mentioned that Jasper was arrested and spent a night in police custody, after the matter was reported.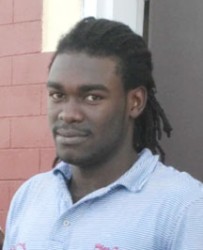 Cadet Officer Collin Primus, who served as prosecutor, told the court that Jasper confronted Harding and accused him of being a part of a robbery at his home. Primus said after Harding denied any involvement, Jasper drew a gun on him.
Harding, 23, had made headlines after he alleged that a police officer had raped him with a condom covered baton during an arrest last year at Timehri. He also alleged that he was assaulted on several occasions at the Timehri Police Station, where he was taken after his arrest.
Magistrate Geeta Chandan-Edmond subsequently ordered that Jasper pay a $10,000 fine for each charge with an alternative of three months in jail if he fails to pay the fines.