Suspected electrical fire leaves six homeless in Crabwood Creek
A suspected electrical fire on Monday afternoon gutted two houses in Crab-wood Creek Corentyne (CWC), leaving six more persons homeless.
Satesh Lilman, 32, a farmer told the media that the fire began in the upper flat of his home at Grant 1651 lot 65 CWC at about 5.35 pm. He explained that he had been relaxing in his hammock when neighbours alerted him that his house was on fire.
Shocked, he called out to his wife, who was tending to their children to get out of the house.
His wife and children ran out of the yard, whilst he tried to "run upstairs and turn off the main switch." However, the intense heat prevented him from entering the house and he had to sprint downstairs to save his own life.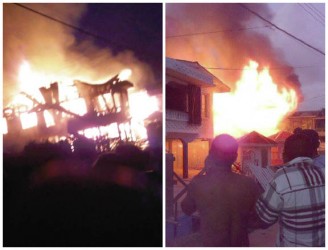 Frustrated Lilman said that his family was unable to save any items from the home and indicated that he did not know the next move for his family.
The house next door, at Lot 66 Grant 1651, owned by Dropadi Baichu 83, an overseas-based Guyanese, also caught afire. Baichu, vacationing in Guyana, was in the house.
According to a niece Indra (only name given), after the fire alarm was raised, her aunt wearing only a night gown, had to be hurried out as the house was being consumed in flames. She went barefoot because all her belongings were lost in the fire. She explained that her aunt had to ask for a pair of slippers to put on her feet.
The niece said that the home worth about some thirteen million dollars, had been furnished with expensive appliances.
The Lilmans' house had been recently renovated to the tune of about ten million dollars.
Meanwhile, residents from the CWC community were critical of the untimely response of the Spring-lands fire service. Lilman said as soon as the flames were sighted, residents had tried to contact the fire service but were unsuccessful.
The pensioner's niece added that multiple calls made to the fire station went unanswered. She said that after not being able to contact the fire-fighters, they called the Springlands police station, which also tried to contact the fire service but got no answer. Subsequently, residents called the Georgetown fire service which contacted the unit at Springlands, and "that was when they came," she explained.
Nevertheless, the officers at the Springlands police station were commended for their efforts to contact the fire service.
The residents explained that the fire service arrived approximately 45 minutes after the fire had started and the houses had already been engulfed in flames.
They also said that they were planning to have a demonstration, since it was the second incident in the area in the past few days that resulted in the loss of livelihoods and shelter.