Incomplete case file stalls DPP's decision on wrongfully charged woman
-remand to prison extended
Alana Taylor, who police said had been wrongfully charged for armed robbery, was yesterday remanded to prison once again after the prosecution reported that the Director of Public Prosecutions (DPP) was unable to advise on the case because the file was incomplete.
Alana Taylor, 35, of 212 East Ruimveldt Housing Scheme, had been remanded to prison on Wednesday despite indications from the police prosecutor that she had been mistakenly charged.
Yesterday, she made another appearance before Magistrate Judy Latchman on two separate instances. Prosecutor Joel Ricknauth had informed the court that he had been instructed by his superiors to proceed with the charge against Taylor when the matter was initially called in the morning. The woman's counsel, attorney-at-law Mark Waldron, requested bail while the prosecution awaited confirmation on Taylor's fate.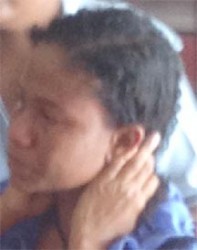 In the interest of justice, Magistrate Latchman adjourned the matter to the afternoon session to allow the prosecutor the opportunity to take the file to the DPP by hand for a definite response.
However, when the matter was recalled, Prosecutor Ricknauth asked for an adjournment date, stating that necessary statements for the case were yet to be filed. According to Ricknauth, the DPP chambers would not be in the position to administer accurate advice until Taylor's file had been completed. He projected the file's completion by March 10 with the delivery of the decision to the court the following day.
As a result, Taylor will remain in prison until March 11, when the case will be called again.
The single mother of three was accused of robbing her friend Elizabeth Hendricks on March 2 at Lime Street of $341,000 worth of valuables including a cellphone, a gold ring and a laptop. She had not been required to plead to the charge.
During Wednesday's proceedings, Prosecutor Vishnu Hunt had raised no objections to the woman's bail but had stated that he had received instructions which vindicated her instead. He had added that the prosecution would actually want to use Taylor as a witness in the armed robbery case.
Most Read This Week