Corentyne woman shot dead, sister injured
– after gunmen barge into house
A 57-year-old woman was shot dead reportedly in execution-style at Fyrish, Corentyne, Berbice and her sister seriously injured when two men barged into their home around 10:30 pm on Friday.
Patricia Samaroo of Number 2 Road, Canje sustained a single gunshot wound to her head. Her sister, Annetta Samaroo, 45, was shot to her abdomen after she recognised one of the gunmen and shouted his name.
She was rushed to the New Amsterdam Hospital where she remains a patient. Patricia's daughter,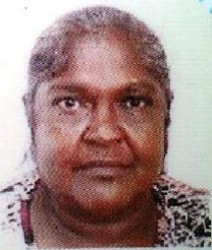 Veronica said that when she saw her aunt yesterday morning, she appeared to be unconscious.
Police said in a release that quick response by ranks led to the motor vehicle that the perpetrators rented and used, being detained.
They also arrested two men, one of whom has been identified as one of the suspects, police said
Patricia's son, Alvin said he and his mother had gone to his grandmother's house at Fyrish to spend some time.
They were sitting in the living room in the upper flat watching television with Annetta and other relatives when the masked gunmen barged in and shouted "police!"
The men then immediately fired a shot, which hit Patricia and a male relative pelted one of them and his mask fell off. He was recognised as a man who was reportedly wanted in relation to a murder.
He said Annetta was shot after she blurted out, "[Man's name] wah yuh doing?" The gunmen then hastily left the house without taking anything and escaped in the waiting car.
A police source said that the main assailant is on the run. The source said too that robbery has been ruled out as the motive for the killing.
He said police were trying to determine the circumstances of the killing and wondered whether it could have been a drug deal gone sour.
They were also looking at the theory that it may have been linked to a carjacking a month ago that Patricia's son, Marvin Samaroo had been charged with; he is currently on remand.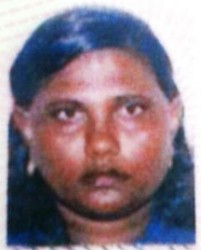 But Patricia's children believe she was a victim of mistaken identity because she does not have any problem with anyone.
They told this newspaper that their aunt is an eyewitness in a murder case and felt that the men intended to kill her.
Alvin said his mother was motionless on the chair as though she was sleeping and they did not realize she was dead.
They were focusing their attention on taking Annetta to the hospital and it was not until he started shaking his mother in an effort to "wake" her that he saw the blood.
In tears, Veronica told this newspaper, "Look how me mother get she dead innocently.
Whoever did this to her would pay for it."
Asked about any involvement with drugs, Alvin said two of his brothers were caught with "lil weed" and were in prison, and that was the extent of it. He also cried that his "father died last year and now we don't have nobody."