Crabwood Creek medical outreach treats over 300 
Over 300 residents of the Crabwood Creek, Corentyne area benefitted from free medical care last Sunday when the Guyana International Relief Organisation (GIRO) conducted an outreach.
The clinic which was held in collaboration with the Ministry of Health and the Guyana Chest Society saw patients who were suffering conditions including diabetes, hypertension, renal failure, eye diseases and stroke.
A release from GIRO said "It was very heartening to see many old and young persons coming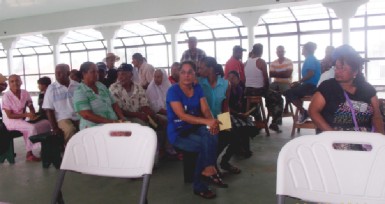 out to benefit from this project… The response was excellent."
It said too that the outreach "not only provided free medical care, including medications and advice but also clothing for families."
The team of medical personnel comprised "six doctors, one medic, three pharmacists along with many nurses and other volunteers." They also visited the homes of 14 bedridden patients and provided them with free medical services.
At the end of the event, medical supplies were donated to the Skeldon and New Amsterdam Hospitals.
GIRO, a non-governmental organization also held a successful blood donation drive through the New Amsterdam Blood Transfusion Unit on the same day.
The organization also expressed gratitude to the "doctors, medical personnel and volunteers, the medical authorities in Region 6 for their assistance, the hosts (Mr & Mrs Prasad), the people who took the opportunity and responded well."
It was also grateful to the donors Twins Manufacturing, SSP International, Best Buy Pharmacy, the Ministry of Health and Food for the Poor and other companies and individuals.