Scotia 'Build a Home' selects mom with four daughters
After more than a decade of living in an abandoned factory and then a bottom flat with her four daughters, Althea Boucher will finally have a place to call her home, thanks to the contributions of Habitat for Humanity and Scotiabank.
Under the 'Build a Home' promotion, Boucher and her daughters earned themselves a $2 million home in Parfait Harmonie, West Bank Demerara after being chosen by Habitat for Humanity because of their disadvantaged circumstances and inability to obtain a home without assistance.
The promised home will contain two bedrooms and should be completed by early next year for Boucher and her daughters Rachel, 15; Alicia, 14; Allison, 12, and Ashley, 7. However, Habitat for Humanity is still appealing to the public for support in adding a third room to the home to cater to the family's needs, especially since the daughters are of different ages. An appeal was also made to the public for the provision of home furnishing items for the Boucher family.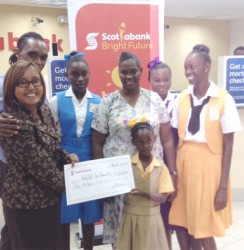 The job of construction will be undertaken by the non-governmental organisation along with Scotiabank and the First Assembly of God Church, which also provided financing for the home's construction. The majority of tasks such as painting and yard work will be completed by volunteers of the three establishments.
The woman thanked the entities for their impact in her life and praised God for blessing her. She revealed that having been through a lot in her life, she appreciated the home more than ever.
Her daughters were also given an opportunity to thank the involved bodies and tearfully did so. According to a Habitat for Humanity representative, the initiative aims at providing bright futures for children in difficult circumstances.
The 'Build a Home' partnership began in March 2013 and saw Amanda Anthony, a widowed disabled mother of two, as its first beneficiary.
This year, funding was provided to Scotiabank in Guyana through the Scotiabank 'Bright Future' Programme which allows the bank's clients to apply to the bank's Toronto head office for corporate funding to support large-scale charity projects.
According to Jennifer Cipriani, Marketing Manager of Scotiabank, the partnership is set to continue for at least two more years.
The ground-breaking ceremony for the Boucher family's new home will take today at the proposed site.