Rondy Jagdeo freed of Eccles murder charge
Businessman Rondy Jagdeo, accused of killing his close friend Kirk Davis on September 3, 2013 had his matter dismissed yesterday after a no-case submission was upheld by Chief Magistrate Priya Sewnarine-Beharry following the no show of key witnesses.
Jagdeo had made his first appearance in court on November 21, 2013 after being on the run for nearly two months following the murder of 31-year-old Davis. The man had turned himself over to the police on October 28 in the company of attorneys-at-law Mark Waldron and Roger Yearwood.
In the initial appearance, Prosecutor Bharat Mangru had stated that Jagdeo had learnt that Davis had kissed Jagdeo's wife on the neck one evening while in Palm Court and had gone to Davis's home in Eccles to confront him.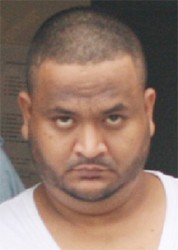 Mangru had stated that on September 3, Jagdeo visited Davis's home with his silver motor vehicle and instructed the man to enter the vehicle.  Mangru told the court that shortly after, the accused exited the driver's side of the car, opened the backseat door and shot Davis several times. The injured man's body was then dumped out of the vehicle before Jagdeo drove away, Mangru had concluded.
A post-mortem examination later revealed that Davis had been shot sixteen times.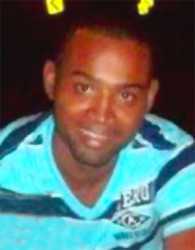 In yesterday's proceedings, Mangru said that Neliffa Dookie, the wife of the deceased, and Rondel Marks were once again absent. Despite numerous attempts to summon the witnesses, no appearances had been made by either of the two.
A no-case submission was made by attorney-at-law Yearwood who stated that the prosecution did not prove the elements of the offence. Though he admitted that the prosecution had successfully proven that Davis did indeed die and that the man had died by gunshots, the prosecution had failed to prove who killed Davis.
The defence attorney's submission was upheld as no prima facie case had been established against Jagdeo implicating him for the capital offence despite the testimonies of the prosecution's seven witnesses. Hence, Jagdeo's matter was discharged.
Jagdeo promptly changed his outfit and rode down the street on his motorcycle after the declaration of his freedom was made.
Most Read This Week