Depositions in Rondy Jagdeo case will have to be sought by DPP
No requests for the depositions in the Rondy Jagdeo murder case which was discharged last week have been made as the Director of Public Prosecutions (DPP), Shalimar Ali-Hack is presently on leave.
Stabroek News was reliably informed that the standard procedure is that once a murder case has been discharged at the Magistrate's Court level, the DPP would send a request for the depositions (the evidence taken in the matter) in writing to the Clerk of Court. Once they have been received,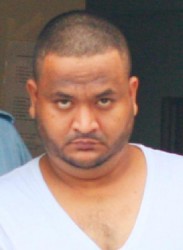 they would be perused and the police file on the investigations into the case would then be requested.
Crime Chief Seelall Persaud had noted that the DPP has the power to instruct that the preliminary inquiry be reopened. The discharging of the case because witnesses did not turn up has caused public consternation.
When Stabroek News called the DPP's office on Tuesday, the secretary said that she was on leave.
Based on what this newspaper was told it is only the DPP who can made the request for the depositions.
This will now have to wait until her return to office.
On September 3 last, Jagdeo was alleged to have shot and killed biker Kirk Davis at Eccles. Police Prosecutor Bharrat Mangru had said when Jagdeo first appeared in court that Jagdeo had learnt that Davis had kissed his wife on the neck one evening while in Palm Court and had gone to Davis's home in Eccles to confront him.
Mangru had stated that Jagdeo went to Davis' home in a silver motor vehicle and instructed the man to enter the vehicle.  Mangru told the court that shortly after, the accused exited the driver's side of the car, opened the backseat door and shot Davis several times.
The injured man's body was then dumped out of the vehicle before Jagdeo drove away, Mangru had said.
It is believed that after the shooting, Jagdeo fled to neighbouring Suriname where he remained for about two months before surrendering to police. Police had issued a wanted bulletin for him after the shooting and he was named by police commissioner Leroy Brumell as the suspect.
When the case was discharged, Mangru had said that Neliffa Dookie, the wife of the accused, and Rondel Marks were once again absent. Despite numerous attempts to summon the witnesses, no appearances were made by either of the two. It was based on this that Jagdeo was freed.
Many questions have since been raised as to how the matter was handled by the court.