Man freed over 2009 family feud killing
Carl Bennett, who was on trial for the murder of Marvin Boston, who was stabbed in a family feud in Albouystown in October 2009, was freed yesterday in the High Court after a 12-member jury found him not guilty.
Bennett, who was facing a retrial before Justice William Ramlal, yesterday ran out of the courtroom a free man, sweeping up his son into his arms. "Come mama," he said to his teary- eyed mother, who rushed to embrace him. He had maintained his innocence throughout his trial and retrial, pleading not guilty both times.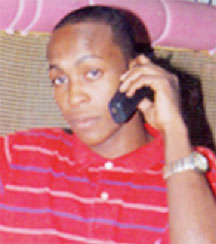 A retrial was ordered after a 12-member jury could not arrive at a unanimous decision in the High Court in May 23, 2013. Justice Navindra Singh, who presided over the trial, remanded him to prison after the jurors declined further direction that could have assisted them in arriving at a verdict.
He was represented by attorney-at-law Hukumchand while Mercedes Thompson presented the state's case.
After three hours of deliberations, the jury came out with their verdict of not guilty.
Justice Ramlal then told Bennett that he was free to go, warning him that in the future whenever he found himself in a conflict he should not  'stick around'.  He added that there was no doubt that the jury arrived at the right decision based on the evidence presented in the court.