Former CANU officer admitted to Bar
Former CANU Officer Lloyd Mark Conway of Lamaha Springs was on Thursday admitted to the Guyana Bar. Conway's petition was presented by Senior Counsel Robin Stoby to Chief Justice Ian Chang.
Conway, a former Queen's College student attended the University of Guyana where he obtained a degree in Public Management in 2007 before embarking on his legal studies.
He secured his Bachelor of Laws (LLB) degree in 2011 and thereafter successfully completed his two years of study at the Hugh Wooding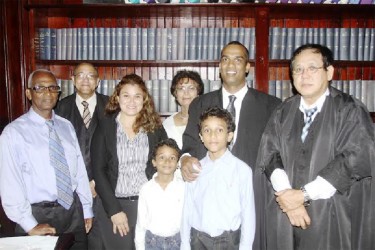 Law School in Trinidad to earn his Legal Education Certificate (LEC).
Besides academics, while at Queen's College he also excelled at cycling, winning national Juvenile and Junior Cycling Championship titles.
He plans to work in the DPP's Chambers where he had done an attachment while still attending law school. Conway has said that he is prepared to work towards being an exceptional lawyer in service to his country.
The new attorney acknowledged the sacrifices made on his behalf by his parents Lloyd and Sylvia as well as the invaluable support of his wife Dinte and his two sons Ethan and Kaden. He also thanked his two sisters and a number of friends for their support.