Cops pursuing several angles in murder of Enmore driver
The Police say they are pursing all possible angles in their investigations into the murder of Enmore taxi driver Roopchand Darshan who was found slumped over the steering wheel of his car on Friday night.
Up to press time yesterday there was no arrest in the case nor was any person of interest identified.
A senior police official on the East Coast said that investigators are pursuing the theory that he was the victim of an attempted carjacking. He said that they are also checking reports that Darshan was recently involved in an argument with a man during which he was hit in the head. Additionally, the official said that investigators would attempt to speak with other taxi drivers who plied their trade in the area to ascertain when Darshan made his last pickup and who was his passenger.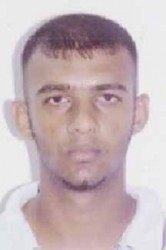 A post-mortem examination which was conducted yesterday revealed that the Logwood, Enmore resident died as a result of haemorrhage and shock due to gunshot wounds.
Police had said in a press release that Darshan, age 24 was found in his motor vehicle PRR 4834 on the Strathspey Railway Embankment, ECD, with a suspected gunshot wound to the head around 2250 hours.
The front of Darshan's car was found in the trench while the other half was on the road.
A group of men living in the neighbourhood had told his relatives that sometime after 10pm he had received a called from a person who wanted to be picked up.