MV Makouria set for return after $135M works
Following $135M in rehabilitation works, the MV Makouria is expected to be back in operation on Monday, April 7, 2014, according to a release yesterday from the Transport and Harbours Department.
The vessel which was in dry dock for 30 days  plies the Parika/Bartica route. According to General Manager, Marclene Merchant, significant parts of the vessel underwent major repairs including its hull.
"We also did works on the shafts, propellers, rudders, rudder stocks and everything pertaining to brushings," Merchant was quoted in the release as saying.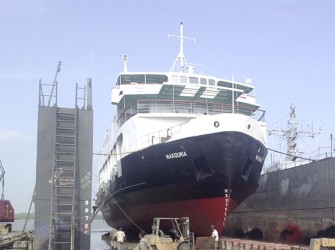 A new canteen was also installed.
"The plumbing system has been remedied, and we have repaired all domestic and sanitary pipelines….all defective electrical works were also corrected," the T&HD General Manager added. She said that the works were done to the T&HD's satisfaction. E.C Vieira Investment Limited carried out the works.