Parents, niece testify as Carolan Lynch inquiry continues
Four more witnesses offered evidence yesterday when the Preliminary Inquiry (PI) into the murder charge against former beauty queen Carolan Lynch, who is accused of killing her husband, Farouk Razac, continued yesterday.
The parents of Lynch, Robert Lynch Snr and Edith Lynch, her niece, Melissa Watson and police witness Inspector Inniss all testified before Chief Magistrate Priya Sewnarine-Beharry yesterday at the Georgetown Magistrates' Courts.
Lynch is represented by attorney-at-law Peter Hugh, who cross-examined Watson during the hearing.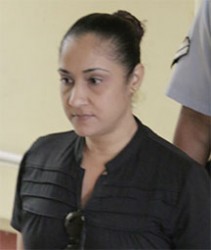 Still to testify is the daughter of Lynch and Razac, among others. Additionally, prosecutor Bharat Mangru informed the court that the prosecution is still locating witnesses.
Lynch was first charged in May of 2007 after Razac was found dead on the floor of their Eping Avenue, Bel Air home. Following a PI, then Magistrate Gordon Gilhuys in late December 2007 had ruled that no prima facie case was made out against her and she was subsequently discharged.
In October 2010, police filed a fresh murder charge against Lynch.
The following month, an arrest warrant was issued for her arrest after Lynch had been formally served notice of the charge but had not appeared in court.
The matter was called and adjourned three times as of November 2010, and on all the occasions Lynch never showed up for the charge to be read to her. In the months after, she still did not appear in court and adjournment after adjournment was given.
There was no word on her whereabouts until September last year  when reports surfaced that she had been working for a local tour operator unknown to police. Attempts had been made by the police to apprehend her but to no avail. Shortly after, police issued a new wanted bulletin for her. She eventually turned herself in.
The PI continues today, when the remaining witnesses are scheduled to take the stand.