Philadelphia man dies after drunken brawl
-suspect in custody
A Philadelphia, East Bank Essequibo man was found dead in his home by relatives early yesterday morning, a day after having a drunken brawl with a friend.
Mahendra Singh, 38, was found motionless at his home by his sister and was immediately rushed to the Leonora Cottage Hospital, where he was pronounced dead on arrival.
According to his sister Anita Sammy, Singh was involved in an argument with a friend while he was visiting her home at Zeeburg, West Coast Demerara and was hit in his head. "He came home by me and said his friends beat him up so we clean his head and he went home," she said.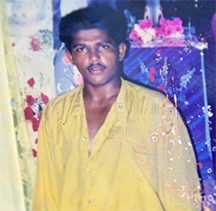 Sammy noted that around 5am, she received a call from the man who Singh was lodging with, saying that Singh was frothing at his mouth. She said she yelled at the man to carry him to the hospital but when she arrived at his home she saw him lying still on the concrete in the front of the yard. When she turned him over, "I see he nah breathe and I started to holler," she stated, adding that they immediately rushed him to the hospital. "I knew he was dead when I reached." "That was my only brother and we were very close," she said.
Meanwhile, a statement from the police said they were investigating the circumstances surrounding his death and so far the suspect involved in the fight with Singh was arrested. Singh is survived by his daughter and three sisters.