GRPA launches campaign for cervical cancer detection, treatment
The Guyana Responsible Parenthood Association (GRPA) in collaboration with the Ministry of Health has launched a Visual Inspection Acetic Acid (VIA) campaign for the prevention and treatment of cervical cancer that will see the training of both local and regional personnel.
At the launch yesterday, Dr. John Varallo, of the Johns Hopkins University, Maryland who is responsible for training both the local and regional participants in the programme, said he believes that Guyana is "truly a leader" in the area of cervical cancer prevention. In light of the fact that Guyana has one of the highest rates of death by cervical cancer in the world, he commended the country for recognising that the problem exists, and for implementing a solution.
Commenting on the approach, he said "a low tech innovative approach" has been adopted to bring "high quality services" to women. "The beauty of it is that even though it's low technology, it's accurate and it links screening with treatment. You get the results in a minute and if the cervix looks nice and healthy then that's great,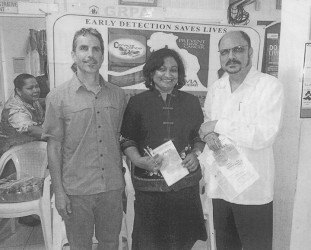 it's empowering, it's a beautiful thing and if … there is a precancerous lesion, then we can treat it at the same time," he explained.
This is one of the ways that VIA is an easier alternative to the Pap smear, according to Dr. Varallo. "There aren't multiple visits or long waiting periods and there is a beauty in that. I am proud to be a part of what Guyana has done. They have brought this innovative approach to the country and they're being recognised globally," he added.
According to him, Guyana is actually a leader in the global cervical cancer forums and he informed that "with the GRPA partnerships we are bringing the other Caribbean countries here." Participants from Grenada, Trinidad, Suriname, St. Lucia and Belize will benefit from the programme.
Executive Director of GRPA Patricia Sheerattan-Bisnauth said that while the GRPA clinic does offer Pap smear services, it recognises that "VIA is affordable and will have a wider reach with quick results and treatment."
Wellness warriors
Minister of Heath Dr. Bheri Ramsaran said the project is a good initiative as it implements "evidence-informed" approac-hes. He also commended his "wellness warriors" for taking help to all areas, especially the hinterland regions which were targeted primarily by Nurse Patricia Singh and Dr. Varallo in the field.
Commenting on the implementation of VIA as opposed to the Pap smear, Ramsaran said "there has been suspicion that the Pap smear is being side tracked." However, he added that the people need to be reminded that even though the Pap smear is the 'golden standard,' "you have to have the microscopes, you have to take smears, transport and care for slides." This extensive care, he said, can present certain challenges. "I want to make it clear that we are not discarding the Pap smear, or undermining it's value, but saying that the science of VIA is well established .We are saying that the method we have gotten from John Hopkins has been tested by a centre of excellence," he noted.
According to Ramsaran, "Guyana is doing a lot of things in conjunction with strategic partners of excellence" and he argued that the postgraduate studies offered in surgery, gynaecology, and paediatrics are proof of this. "These are not wishy-washy third world projects, they are mentored, guided and informed by centres of excellence such as Vanderbilt…," he declared.
Commenting on other issues in the health sector, he stated that Guyana's growing recognition may have a negative impact on the vaccine projects that have been implemented. He announced that "right now our vaccine programme (against cervical cancer) is under threat, and we need to mobilise, as a community, as a grass root people."
He believes that the country is "being punished for doing good" as the reality may be that the health sector may soon have to pay market price for the vaccines, such as the Human papillomavirus (HPV) vaccine. This, he said, can be to the country's detriment as the implementation of this vaccine programme, which began in 2012, may be threatened.
Citing a more than 90% increase in the number of birthing activities being done in the presence of a trained birthing attendant whether it be a gynecologist, obstetrician or a Community Health Worker who has had special training, the Minister said that this is proof that the resources invested in the sector are being put to good use.
Ramsaran, acknowledging the presence of the regional participants said "We are happy to share what little resources we have because this is this is another milestone for us, we are happy to be recognised as a centre for training for five countries."
Meanwhile, special thanks were given to the International Planned Parenthood Federation which sponsored the event.