Leonora miner allegedly stabbed to death by brother
An Essequibo gold miner was fatally stabbed early Monday morning, allegedly by his younger brother in the mining camp where he worked.
Devendra Alfred, 22, of Lot 115 Roadmaster Street, 'C' Field Leonora, died in his mother's mining camp at Sandhills, Cuyuni, Mazaruni after allegedly being stabbed by his 19-year-old brother who also worked at the camp. According to their mother, Indra Alfred, she was awakened by the ruckus created by her two sons who she said were intoxicated and fighting at approximately 1:30am. She said that she got up and saw them running about and shouting at each other in the darkness after which the younger one pulled out a knife when Devendra ran to grapple him. She said that Devendra screamed, "I geh bore"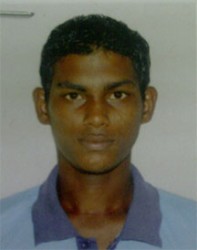 and fell to the ground.
She continued, that she used a cloth and sponge to bandage the wound and left to find a bicycle at a nearby sawmill.
She said she returned to a dead son and in shock rode to the Bartica Police station where she informed them of the death. She then said that she returned to the scene with the police where her two sons were, after which they took the 19-year-old into custody to assist with investigations.
A post-mortem examination of the body revealed that Devendra died from bleeding from a ruptured spleen. His funeral will be held today at Sandy's Funeral Parlour.