Sophia teen admitted to ICU after stabbed by cousin
A 17-year-old 'A' Field, Sophia resident who was stabbed by his cousin late Friday night is slowly recovering in the Intensive Care Unit of the Georgetown Public Hospital, family said yesterday.
Matthew Jack, of 372 'A' Field Sophia, was stabbed several times about his body during an argument with his cousin, who had been accused of stealing items from the home.
Matthew's sister Onika Jack said she had noticed that her stereo set, cosmetics and a new pair of sneakers were missing when she returned home. She said her cousin was at home alone but when she confronted him he denied it. She said Matthew tried to speak to him but he became quickly enraged.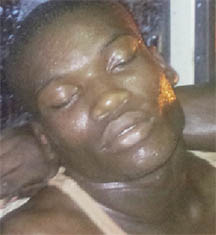 She said he pushed Matthew "against the wall and start stabbing him till he fall to the ground," she said, adding that the injured teen was then rushed to the hospital.
Another cousin, who asked not to be named, said she saw the assailant, whose name was given as Rayon, run to the back of the yard but when they searched for him he was nowhere to be found.