Two crashes at Ogle after heavy rain
Three motor vehicles were involved in two separate accidents on the East Coast Demerara at Ogle yesterday following some heavy rainfall. No serious injuries resulted from the crashes but one motor vehicle was totalled.
According to an eyewitness, who works at a nearby tyre shop, at approximately 11:30 hrs, a silver motor car flipped over twice after its driver lost control. He had apparently driven at some speed into a large pool of water that had accumulated on the road, about 200 metres before the Ogle Service Station. The car lost several of its parts as it moved approximately 100 metres from the water puddle and ended up on the concrete median of the road, upside down. The eyewitness said a man, dressed in a suit, crawled out of the car with blood about his face.
The eyewitness said that he along with a few bystanders helped the man along, and later threw sand on the spilled oil as well as picked up the car parts scattered about the road. He said officers from the Sparendaam Police Station, arrived on the scene shortly after and the car was towed away. The eyewitness did not record the licence number nor did he know the name of the occupant. Police at the Sparendaam Station did not provide any information on the matter to Stabroek News either.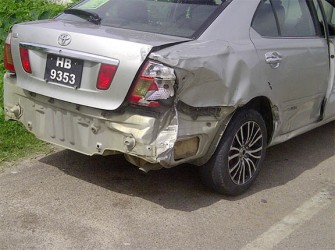 The second accident occurred about 40 minutes after the first, according to the same eyewitness. This time a Guyana Energy Agency (GEA) fuel truck with licence number GMM 6843 crashed into the back of a Toyota Premio taxi, HB 9353, after it splashed water into the air and onto the windscreen of the car. The man said the truck dragged the car that had shifted sideways, about 50 metres from the point of impact, displacing it about 150 metres from the Ogle Service Station.
Involved in the second accident were GEA employees, Patrick Lewis, 62 and Zameer Khan and taxi driver Chetram Deodat who claimed that he'd had two occupants in the car, who were foreigners. With the exception of Lewis, who claimed that the taxi had overtaken him before it abruptly stopped, the other individuals corroborated what the eyewitness said.
The truck suffered minimal damage to its bumper and steps on the right side whilst the motor car was dented severely at the back and side, with the bumper collected by the eyewitness for safe keeping. Police investigations into both matters are ongoing.