Jagdeo to chair FAO forestry committee
Former President, Dr Bharrat Jagdeo was on Monday elected as the Chairman of the Food and Agriculture Organisation's (FAO's) 22nd Session of the Committee on Forestry (COFO) for the period 2014-2016.
COFO is one of the FAO's governing bodies with over 130 member countries and which deliberates on global forestry issues, a release from GINA said yesterday.
The 22nd Session of COFO is being convened in Rome, Italy from 23-27 June 2014 and among the key issues for discussions are the report on the State of the World's Forest 2014; Payment for ecosystem services and forest financing; Forests and the Sustainable Development Goals and REDD+ and the UN Climate Summit 2014.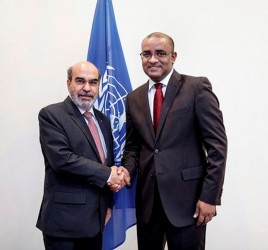 The GINA release said that Jagdeo emphasized the need to push the global forests agenda in light of the role forests play as an important mitigation option for addressing climate change. He pointed to the need for an enabling policy environment at the national level and access to and scaled up financing as two priority areas.
While in Rome, Jagdeo also met with FAO Director General Jose Graziano Da Silva. Among issues discussed were expanding the FAO's work in the Caribbean.