Accident causes major sewage spill in city
Guyana Water Incorporated (GWI) workers were up to yesterday afternoon carrying out emergency repairs to a main at the junction of Waterloo and Quamina streets that was damaged by a truck, resulting in a "significant" sewage spill.
According to GWI, the truck, belonging to a private company, damaged the main at around 11 am yesterday.
When Stabroek News visited the area, a section of Waterloo Street was flooded with sewage and motorists could be heard cursing and yelling at GWI workers, venting their frustration at the situation. "What y'all doing? Bare mess ya'll meking," a car driver said.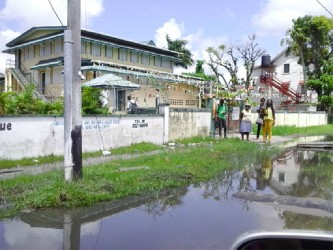 Others were heard commenting on the fact that the road had been broken in several places to replace sewerage pipes under GWI's sanitation rehabilitation project and had not been fixed as yet.
On Tuesday last, GWI had issued a statement to the effect that the inclement weather had affected the activation of rehabilitated sewer mains as well as road repairs. The release said the concomitant flooding had forced a halt to the works, but they would be restored as soon as the rainy season is over.
GWI said the contractors had indicated that the flooding would significantly affect the quality of road repairs.
GWI yesterday urged commuters to exercise extreme caution in the vicinity of the spill from the damaged sewer main adding that the emergency repairs would be completed in the swiftest manner possible.