Decomposing body of woman found in North Ruimvedlt
The unidentified, decomposing body of a woman was discovered in an unfinished building behind the Plaza in North Ruimveldt yesterday afternoon.
Residents of the area say the woman's body was discovered by the building's caretaker around 09:00hrs yesterday as he arrived to carry out his rounds. After making the discovery, the man went to the North Ruimveldt Police Station where he made a report.
The police are said to have arrived between 12:30hrs. and 13:00hrs.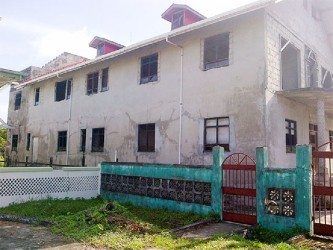 The building in which the body was discovered has been unfinished for more than six years, one neighbour related.
Although the yard in which the building is situated has a hut to accommodate the caretaker Stabroek News understands that he only goes there on occasion. The gate to the yard though, is said to be usually locked. It is therefore uncertain how the woman gained access to the building.
Of the residents Stabroek News spoke to none could recall ever seeing the woman. Up to press time last evening her body remained unidentified. Further, the building's caretaker remained in police custody up to yesterday afternoon assisiting with the investigation.