Prisoner caught with ganja in anus, gets four more years
Found with marijuana hidden in his anus, convicted prisoner Roger Samuels was yesterday sentenced to an additional four years imprisonment.
"I gon plead guilty 'cause I don't want no long story," said Samuels, who appeared before Magistrate Judy Latchman at the Georgetown Magistrate's Court charged with narcotics possession for the purpose of trafficking. However, he then proceeded to say, "They were planning for me."
According to Prosecutor Joel Ricknauth, on June 27, Samuels, who was with other prisoners preparing to return to the jail after performing their duties at the Prison Officer's Sports Club, was observed walking in an unusual manner. He was then taken for medical examination and it was discovered that there was a white plastic bag lodged in his anus. After it was removed by Samuels, it was revealed that the bag quantity of marijuana which was then weighed and found to be 68 grammes.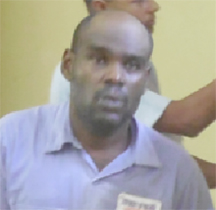 "I gah hustle tuh" was Samuels response to being charged, according to Ricknauth, who noted that Samuels currently has 14 months left to serve after a previous conviction for simple larceny.
Samuels related to the court that even though he is imprisoned, he is a hardworking man and has three children. "Life hard in prison and everything in there you got to buy. If you want something to drink, you got to buy it," he said. He, however, later claimed that he did not have the substance on him and that the medic "push she hand up me and put it there."
In addition to four years imprisonment, which will be served upon completion of his current sentence, Samuels was also fined $10,000.