Kildonan boy, 4, dies after swallowing tack
A four-year-old student succumbed on Wednesday while being rushed to the New Amsterdam Hospital for treatment after swallowing a tack.
Malakie McBean, of Kildonan Village, Corentyne, Berbice swallowed the tack while visiting his grandmother's residence with his mother.
Brenda George said her grandson and his mother visited her after he had left school. She went on to explain that at approximately 1pm on Wednesday, she and the mother were outside while her grandson was left inside the house playing.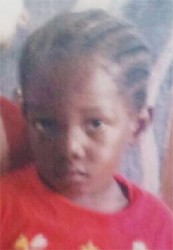 Sometime, after Malakie came and told his mother, "Mommy I swallow a tack," the grandmother recalled.
McBean's mother, after hearing the shocking statement, rushed the child to the Port Mourant Hospital, where he received medical attention before being prepared for transfer to the New Amsterdam Hos-pital.
However, George said her grandson died en route to the hospital.
When asked if it was normal for the child to play around the house unsupervised, George explained that her daughter was always cautious. "Candace takes him everywhere, she always careful with him even if she got to go market she take him.
She always look after her child," she said.
The boy's death came as a shock to the Kildonan community and neighbour and relatives converged at his home yesterday to offer words of comfort to his parents, who were still trying to come to grips with the tragedy.