Granger slams response to Chikungunya
Government was chided on Friday for its response to the spread of the mosquito-borne Chikungunya virus, with APNU Leader David Granger stating that the authorities had not been very forthcoming about the threat it posed.
Speaking at an APNU press briefing, Granger said the government was "fogging late" for the virus since it has already spread throughout Region Five and Georgetown.
He made reference to an outbreak of gastroenteritis, pointing out that reports on the number of cases had ceased after those numbers started to rise. "It was 530 cases and then there was a news blackout," he said.
"The same thing is happening now," he added. "We were told that the disease [Chikungunya] was confined to East Canje then suddenly it leaped over Region Five to East Ruimveldt… And then we discovered that there is a laboratory but there was no trained technician."
He charged that only when Health Minister Bheri Ramsaran was "put on the spot" did he admit that the virus was on the rise, adding that poor drainage and the accumulation of mosquitoes were the reasons for the "crisis".
Efforts made to contact Ramsaran for the last few weeks proved futile as he was always unavailable to speak. On Friday again Stabroek News was told that he was unavailable.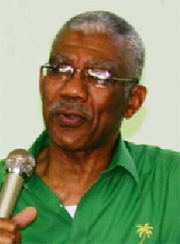 Head of Vector Control Services Reyaud Rahman when called on several occasions, asked to be contacted at a later date. Stabroek News visited his office, but was told he was in a meeting. All efforts to contact him on Friday were also unsuccessful.
Meanwhile, the number of cases has risen to 31. Earlier this week, 12 more were confirmed after samples were sent to the Caribbean Public Health Agency (CARPHA) in Trinidad and Tobago for testing and analysis.
Ramsaran, in an interview with the Government Information Agency (GINA), had confirmed the 12 additional cases while stating that epidemiologist Dr Morris Edwards was analysing the data.
The first 19 cases originated in Canje, Berbice.
In addition, while Guyana has a National Public Health Reference Laboratory, it does not have trained staff to conduct tests for chikungunya and thus the samples have to be sent to CARPHA.
Ramsaran told GINA that a spot has been secured in Atlanta, USA for Guyana's new national public health laboratory biomedical technologist who would be trained in laboratory diagnostics for chikungunya. The Centers for Disease Control (CDC) was approached by Ramsaran to access training for a staffer of the lab.
The CDC stated that up to June 27, transmission had been identified in 22 countries in the Caribbean, Central and South America. A total of 259,723 suspected and 4,721 laboratory-confirmed chikungunya cases had been reported from these areas.
Chikungunya is transmitted by the aedes egypti mosquito and mimics the symptoms of dengue fever. Symptoms may last up to seven days.
Individuals experiencing such symptoms are asked to visit a health facility as soon as possible and are also asked to remove all containers that may retain water and breed mosquitoes and to keep their surroundings clean.
Chikungunya cases have been reported in Anguilla, Antigua and Barbuda, the British Virgin Islands, Dominica, the Dominican Republic, El Salvador, French Guiana, Grenada, Guadeloupe, Guyana, Haiti, Martinique, Puerto Rico, St Barts, St Kitts and Nevis, Saint Lucia, St Martin, St Vincent and the Grenadines, St Maarten, Suriname, the Turks and Caicos Islands, and the US Virgin Islands.