Ex-con tried to smuggle cocaine in milk, ghee
– court hears
Ex-convict Orin Lewis Boodie, arrested on Friday last at the Cheddi Jagan International Airport, Timehri for allegedly attempting to smuggle cocaine out of the country in milk and ghee tins, has been remanded to prison after denying the charge.
The charge of possession of cocaine for the purpose of trafficking was read against Boodie yesterday at the Georgetown Magistrates' Courts. It was alleged that on July 4, at the Cheddi Jagan International Airport, he had in his possession 7.170 kilogrammes of cocaine.
Boodie was an outgoing passenger bound for the United States on TravelSpan's flight V2502 when the scanner detected five tins which were in the lone piece of luggage which the man had checked in.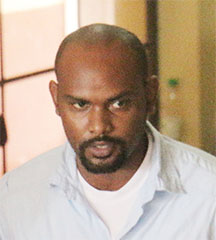 Based on information received, CANU officers conducted a search and uncovered five tins; two ghee and three milk tins containing what amounted to 7.170 kilogrammes of cocaine.
Further investigations were carried out and Boodie was arrested and charged.
When asked, Boodie, who was unrepresented by counsel, explained to Chief Magistrate Priya Sewnarine-Beharry that he was once placed before the courts and sentenced to three years imprisonment on a similar charge.
He was sentenced in 2006 after pleading guilty to swallowing the illegal substance. He was released in 2008.
Customs Anti-Narcotic Unit (CANU) Prosecutor Oswald Massiah objected to the accused being granted his pre-trial liberty, while citing the quantity of cocaine involved and the fact that no special reasons were advanced. As a result, Boodie was remanded to prison and the case was transferred to the Provi-dence Magistrate's Court for July 15.