Over 600 Essequibo residents receive computers under OLPF
The One Laptop Per Family (OLPF) staff in Essequibo, Region Two, yesterday distributed over 600 computers to residents in Charity and some riverain areas.
The distribution was conducted at the Charity Secondary School.   According to the OLPF Supervisor for Region Two Indrawattie Natram the distribution commenced on June 18 and 19 at the Maranatha Assembly of God Church, Bounty Hall.
She said, "349 laptops were distributed during that first distribution." The distribution was managed by Region Two staff and was conducted in an orderly manner, she added. Approximately 681 residents benefited from the distribution.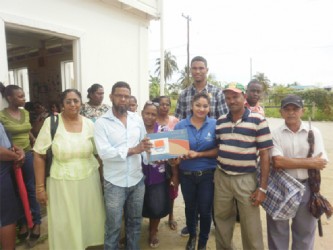 Meanwhile, Natram said the distribution will continue on July 11 at the Maranatha Assembly of God Church where 400 residents living in Bounty Hall will benefit.
Recipients of the laptops were informed prior to the distribution as to which location they were required to go to uplift the computers.
Applicants receiving laptops were verified by OLPF officers and they were told that 10 hours of compulsory training is stipulated to ensure that basic knowledge as to how to operate the computer is taught.
The OLPF programme was initiated by former president Bharrat Jagdeo. It was introduced as a key component of a broader Information and Commu-nication Technology strategy (ICT for Development) which was drafted in 2006.
Most Read This Week