Gov't refusing to accept minority status – opposition tells Commonwealth team
A visiting Commonwealth Secretariat delegation got an earful this week from the opposition on how the government is refusing to accept its minority status in Parliament.
Following their meeting with the Commonwealth's Deputy Secretary General, Deodat Maharaj, the Alliance for Change is preparing to dispatch a dossier of complaints pointing out violations of the Charter of the grouping of former British colonies by the government.
"We talked about Local Government Elections and indicated to them that (the failure to hold them) is a breach of the Commonwealth Charter. We also talked of the violations of the constitution and indicated a number of other things that are happening ….we will send a dossier to them on it," Alliance for Change Leader Khemraj Ramjattan told Stabroek News yesterday.
On Wednesday, the Deputy Secretary General, who was accompanied by the Commonwealth's Caribbean and Pacific Political Affairs Advisor, Tafawa Williams, visited Guyana and met and held talks with President Donald Ramotar and opposition leaders on a range of issues. The team left yesterday.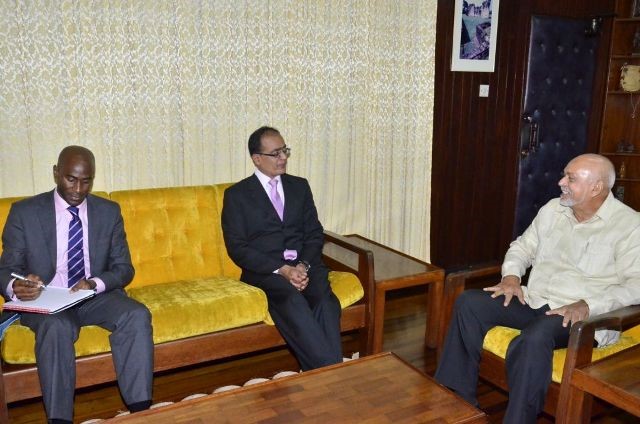 The visit came at a particularly delicate time for the government which has come under swingeing pressure to hold local government elections. The minority government also faces the possibility of a no-confidence motion in Parliament over alleged illegal spending by Finance Minister Dr Ashni Singh. Successfully moved, the no-confidence motion could trigger the collapse of the government and fresh general elections.
The withholding of local government elections recently saw British High Commissioner to Guyana, Andrew Ayre saying that Guyana was in breach of the Commonwealth Charter. The opposition has since said that a petition will be prepared for the Commonwealth on this matter.
Ramjattan explained that his party's meeting with Maharaj also focused on the government's spending of monies that were rejected during this year's consideration of the budget estimates. "The Westminster model that the Commonwealth is so well aware of, in relation to matters financial, is being blatantly violated …where there is spending occurring in blatant confrontation with the constitutional and parliamentary practices we know of in all Commonwealth countries," Ramjattan stated.
The AFC leader said that Maharaj stated that he wanted all of the complaints listed documented and dispatched to the Secretariat.
"We indicated that we will do a dossier to them and we are working on that presently … he said he would like to see all that we have said in the dossier …Our dossier will be a complete document which we will send to the Commonwealth Secretary General …about next week ," Ramjattan said.
Further, he noted that he conveyed to the Deputy Secretary General that his party did not believe that government understood the role of a minority government and requested of the Commonwealth their intervention as a mediator, assisting in this area. "We indicated that this government does not understand a minority government dispensation and if the Commonwealth can help facilitate that and he was upbeat. Yes certainly they can help, but that depends on if government will request help in that facility," he said.
A Partnership for National Unity (APNU) stated that government's resistance to the acceptance of its minority status in parliament was its focus of talks with Maharaj.
"We discussed a broad range of issues but we were most concerned with the question of governance in Guyana and in the final analysis that became one of his concerns too," APNU Leader David Granger said.
"The main issue facing Guyana is that the opposition controls the majority of seats and the government the minority …but it is clear the PPP/C is not prepared to accommodate the opposition as the majority and this is causing serious problems," he added.
Granger said that this view was relayed to the Deputy Secretary General who according to Granger queried ways in which the Commonwealth could be of assistance in this regard.
"He asked whether we felt that the Commonwealth Secretariat could play a role and I felt that once an initiation was made APNU would communicate in that regard," Granger stated.
"They were here to expand the operation of the Commonwealth Secretariat … they briefed us on their development goals and said they are here to have a conversation with stakeholders and to see how they can assist the region and particularly Guyana in economic matters," APNU MP Joe Harmon had told Stabroek News on Wednesday night.
Questioned on if Local Government Elections was discussed Granger said "We did not explore that area of governance …I don't think he wants to get involved in domestic politics."
Harmon, too, had told this newspaper that that while local government elections and other issues were discussed, Maharaj and Williams stated that they were not interested in local politics.
A government official told Stabroek News on Wednesday that the duo also met with President Ramotar and spoke about local government elections and the stalled anti-money laundering legislation.
Developmental and economic matters were also discussed but decisions on the implementation of programmes discussed will be announced after Maharaj, a Trinidadian, returns and the Commonwealth grants its approval.
With the Commonwealth playing a role in times past in assisting in the drafting of legislation here, that area was also discussed with the organization agreeing again to help facilitate this process if needs be.