Public policy group to focus on media freedom
The local media suffers great restraints and this current situation must be changed, Guyana National Council on Public Policy (GNCPP) chairman Philip Mozart Thomas declared on Friday, while saying that the organisation would be placing focus on the issue.
During a media briefing at the organisation's headquarters on High Street, Thomas noted the importance of freedom of speech in a democratic society. "Essen-tial to the bulwark of our democracy – as a people, as a civil society – is our freedom of speech," he said. "We the people – civil society – found that we could not have free and fair elections with the … present dispensation of the castration of the media," he added.
"It is important for us as a people to be addressed. We don't want any bullying, we don't want anyone talking at each other… talk to us as a people. We raised the issue that we no longer want the fear mongering," he said. He continued, "If the media is constricted – have to take sides to exist – it is not good for a democracy… you must be bold, you must be fair, you must be decisive."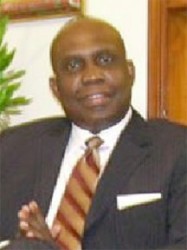 GNCPP, Thomas said, is a civil society organization aimed at embarking on educational pursuits. He further said the organisation has not yet received any push back from the "political spectrum" and believes that the organisation's "alignment" is still being determined. However, he maintained, the body is an independent one with no political affiliations, with one of its major fights being for the media.
"We are going to marshal the fight for the media but the media has to support our actions. The media must be fair," Thomas said before adding, "I expect the media to join us for fighting for this change."
Thomas further stated, "We have an obligation…we must do something to make a difference so that when you look into the eyes of the little ones, you know that you've done very well for that generation to come. You in the media have the responsibility to make sure that you participate in this paradigm shift into a new dispensation in how we see ourselves having a better quality of life and handing over to the generation to come."
When it was pointed out to Thomas the similarities between the GNCPP's aims and those of the USAID Leadership and Democracy (LEAD) project, the chairman responded, "We do support and advocate that international organisations such as the IRI [International Republican Institute] that is bringing this LEAD project here must be free to extend themselves to civil society." He continued, "It is our perspective that we must never allow the government to interfere or intermingle with our relationship with being able to do our work as private citizens…we respect what the LEAD programme is all about, especially that portion that deals with women and gender and civil society."
During Friday's briefing, Thomas also revealed plans for the upcoming Guyana National Civil Society Summit (GNCSS), coordinated by GNCPP. The summit, scheduled for September 17 to September 19, is a think tank support forum for civil society organisations with representatives from over 400 Guyanese national and international civil society and non-governmental organisations.
"The GNCPP stands… to spearhead this process of coordinating and organising civil society. We have formulated ourselves primarily as a think tank and national policy institute to give support to national policy that will be befitting the betterment of life. This is all in conjunction with the global perspective… for the fight for the elevation of poverty."
Though Thomas maintained that the GNCPP has no political affiliation, its "first order of business" will be the engaging of the political spectrum with the development of a conflict resolution programme, he said. According to him, a "social partnership" is needed for constitutional reform, electoral reform, and an independent judicial system. However, he added, civil society played a major role in all reform. "We cannot expect the political system to embark on any of this," he pointed out. "We in civil society must stand up in our roles to give effect to these things."