Tenders in for supervision of controversial East Coast road project
Tenders for supervisory consultancy services for the US$57.6M, East Coast of Demerara Four Lane Extension Project from Better Hope to Belfield Village were yesterday opened.
The bids were opened at the National Procurement and Tender Administration Board (NPTAB) located in the Ministry of Finance compound at Urquhart Street, Georgetown.
The road project itself has attracted public criticism over the way that the contractor was chosen after Cabinet rejected a recommendation made by the NPTAB's evaluation committee. The committee later changed its decision and Cabinet has welcomed its choice. Critics say that in cases such as these the NPTAB will not be able to oppose Cabinet's choice.
Yesterday, three companies submitted bids to supervise the works and their names and amounts given are shown below.

Expressions of Interest for a sustainable urban transport study for Georgetown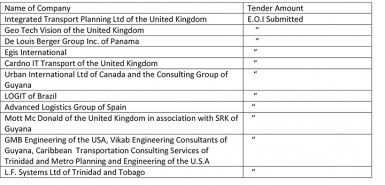 The Ministry of Tourism, Industry and Commerce also received bids for the construction of roads and drainage structures at Lethem Industrial Estate

With the procuring entity being the Ministry of Housing and Water bids were opened for the procurement of works for the construction of an electrical distribution network

The Guyana Energy Agency (GEA) received bids for the supply and delivery of timer control relay and induction type street lamps

Bids were also received for the supply and delivery of electrical items to the GEA.

The Ministry of Agriculture's GLDA division received bids for the construction of a Chain Link fence

Bids were also received for the construction of the Disease Control Post, No.63 Village, Corentyne Berbice, Region 6 for the GLDA.
Bids were received for the construction of a Grass Field Plot at Mon Repos


Tenders were received for the construction of a Duckling Holding Pen at GLDA's Mon Repos branch

The Rehabilitation of a dairy barn at Mon Repos also saw four bids received and opened.

Most Read This Week