Rupununi miner charged with ganja trafficking
A Central Rupununi miner caught with nearly 800 grammes of cannabis on his pedal cycle, is now a remanded prisoner after he appeared in the Georgetown Magistrates' Courts yesterday.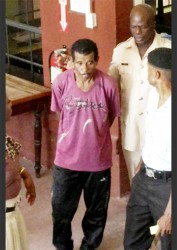 Godfrey Jonas, 55, of Nappi Village, denied that on July 14, at Aranaputa Valley, North Rupununi he had 775g of cannabis in his possession for the purposes of trafficking. He appeared before Chief Magistrate Priya Sewnarine-Beharry.
It is the police's case that Jonas on the day in question had suspected cannabis wrapped in a camouflage top, in a yellow and black bag on his pedal cycle.
According to Police Prosecutor Bharat Mangru, police acting on information, went to the defendant's home, where he was seen removing a bag from his cycle. The ranks then approached Jonas, examined the bag and found leaves, seeds and stems that they suspected to be cannabis. Mangru added that Jonas was told of the offence, arrested and later slapped with the drug trafficking charge. The cannabis was later weighed, Mangru stated.
Mangru objected to bail on the grounds that no special reason was offered by Jonas, who was unrepresented.
The Chief Magistrate subsequently remanded Jonas to prison and transferred the matter to the Lethem Magistrate's Court.
The case will be called again on September 1.