Area Q, Turkeyen residents aggrieved at long-term neglect of roads
-point to pristine state of Pradoville 1
An aggrieved resident of Area Q, Turkeyen has lamented the state of the roads in the community compared to those in Pradoville 1, Goedverwagting, home to a number of current and former senior government officials.
Area Q residents have long complained about the state of their roads which are pockmarked with potholes and craters.
In a July 8, 2014 letter to Stabroek News, resident of the community, Amitabh S Singh, stated that the government and authorities responsible for road repairs have just turned a blind eye to the plight of the residents.
He noted that the roads have been in this condition for years now, with efforts neither by the Georgetown City Council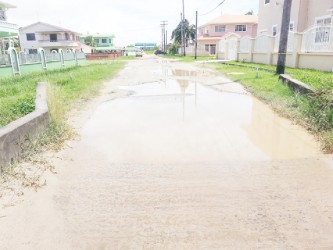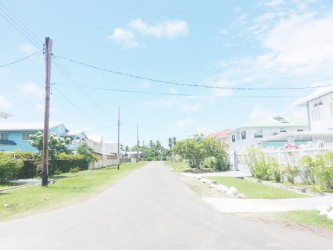 nor the central government to provide any relief.
He said that comments have often been made by government officials that residents from the community are among the more affluent in middle class society and that residents should have the roads repaired at their expense.
He said that what was amazing about these same officials is that they remain mute about the ongoing repairs to the roads by the Ministry of Works in Pradoville 1 where the more affluent in the upper class live.
He said that the roads there have been resurfaced with thick asphalt three times in the past two years; the last being two months ago.
During a visit by Stabroek News, these sentiments were echoed by residents of the community who complained that even though the government is aware of their problem, it is not being remedied. One resident said it was her hope that the roads would be repaired now that the nearby UG Access Road was resurfaced.
When Stabroek News visited Pradoville 1, the stark difference between the roads of the two communities was very evident. It was observed that the roads in Pradoville 1 were indeed in pristine condition compared to the degraded structures in Area Q.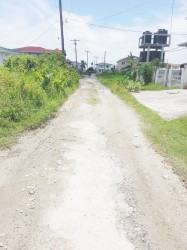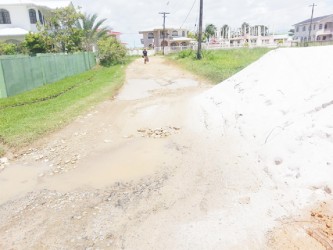 The residents of the Turkeyen community are appealing to the figures in authority in the government to pay heed to their woes as they are forced to endure the numerous craters and broken structures.
Various efforts were made to contact the Ministry of Public Works on whether Area Q roads are to be addressed.