Mahaicony farmer fatally stabbed in row over washroom use
– sister's boyfriend held
A row over the use of the washroom has left a Mahaicony mechanic dead; allegedly stabbed by his sister's lover, who is currently in police custody.
Dead is Alvy Richmond, 52, a mechanic and rice farmer of Lot 10 Strath Campbell, Mahaicony.
Ernestine Richmond, the dead man's mother, told Stabroek News that her son had returned home from work around 5.30 pm yesterday and exclaimed that he needed to use the washroom badly.
Alvy Richmond made a bee line for the washroom, but found the door closed. "He asked, 'Who lock the door? Who in there?'" Ernestine said. His enquiries revealed that his sister's partner was bathing.
Alvy Richmond began to pound anxiously on the door, calling for it to be opened. However, his mother said, the man within responded, "You ain't got no manners? You ain't see I bathing?"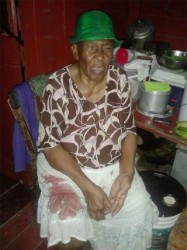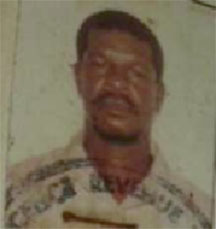 An argument soon ensued between the two men during which Alvy was challenged to "come out on the road and prove yourself."
However, he refused and asked the visitor to his home to leave.
After a few more tense moments, things seemed settled as the visitor left the washroom and Alvy entered to use it, Ernestine said. The calm was short-lived.
"I ain't know when this man put on he clothes, but the next thing I know is Alvy come running up to me with a knife sticking out of he," the mother said. The dead man had sustained a fatal stab to the left side of his chest.
By that time, the attacker had escaped. He was soon caught, though, after residents of the area became aware of the attack through the loud cries emanating from the Richmonds' yard.
He was reportedly cornered in the compound of a nearby school and held until the police arrived. He is currently in police custody.
According to reports, Alvy's sister, who is the accused's partner, and the dead man's 11-year-old daughter, who had witnessed the attack, had been taken in to give statements.
Ernestine is in shock over her son's murder. "My son trusted this man because is he sister fella but they say yuh feed magga dog, he turn back and bite yuh; that's what happened here," she said.
The father of three was described as a peaceful, hardworking, and loving man.