Hopetown Primary gets tablets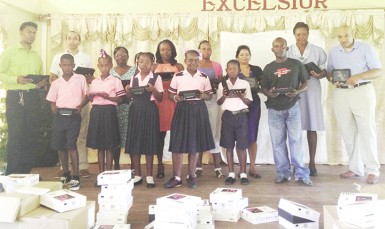 The Hopetown Primary School yesterday benefitted from a 'technology education initiative' through the donation of 56 electronic tablets that are expected to boost the students' learning capacity.
This was made possible through a former resident of Hopetown, West Coast Berbice and a past student of the school, US-based Colin Persaud and US resident Ander Hurton along with Robert Mc Rae and Ravi Ram.
The gadgets which are loaded with advanced educational materials for various subjects would also help the grades four and six students to achieve a higher passing rate.
Two tablets were also presented to the Grade Six teachers to coordinate and streamline classroom tasks and learning.
A desktop computer as well as DVDs were also handed over to the school's library that had previously been resuscitated by Persaud and the other donors.
The simple launching ceremony of the initiative was attended by students, teachers, District Education Officer for primary schools, Sherri Grant, acting Regional Development Officer, Amrit Brijnandan and parents.
Headmistress of the school, Roshanna Gillis who could not attend the ceremony acknowledged the gesture via email and expressed gratitude to the donors.