Chandarpal convalescing after cancer treatment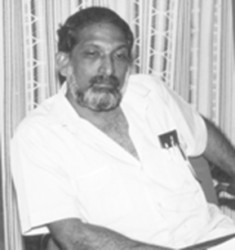 Presidential Advisor on Sustainable Development, Science and Technology, Navin Chandarpal is back home and responding well to treatment he received for cancer.
Head of the Presidential Secretariat Dr. Roger Luncheon yesterday said that Chandarpal was "feeling much better" and was even present at last week's meeting of Cabinet.
Earlier this month, Chandarpal was hospitalised in New York where he was receiving aggressive treatment for cancer. He was later discharged and from his home in New York he received outpatient treatment.
Considered a member of the PPP's 'old guard' and close to the late PPP leaders Dr Cheddi and Janet Jagan, Chandarpal was welcomed back to the Office of the President by President Donald Ramotar shortly after he was elected at the 2011 general elections.
Chandarpal, also a former Minister of Agriculture, polled sixth place on the PPP's Central Committee with 604 votes at the party's congress in August, 2013 at Port Mourant, Berbice. He is relied on for his statistical analyses during general and regional elections.