Assuria Insurance opens Vreed-en-Hoop branch
Assuria General (Gy) Inc. officially opened its first branch office in Vreed-en-hoop, West Coast Dem-erara yesterday appointing Lakeram Ganesh as the branch manager.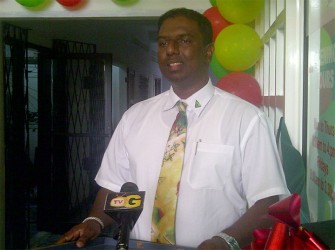 The ceremony was attended by key company officials inclusive of the General Manager (ag), Yogindra Arjune, the Director of Foreign Affairs, Suniel Nandpersaud and the Operations Manager Clyde Montslag. Other attendees included insurance brokers and representative from the various commercial banks.
Assuria (GY) Inc. a newly established life and general insurance company, began operations in Guyana in March of 2012 and established the Vreed-en-hoop office to focus on new business and population growth on the West Coast and West bank of Demerara and East bank Essequibo.
Arjune said that the opening of the Vreed-en-hoop office fits the company's overall growth strategy to increase its market share and further stated that it will be advantageous for customers in the region to have easy access to the company's products and services. He even declared that they are considering opening another location in the East Berbice region in the near future.
Assuria (Gy) is a subsidiary of Assuria (NV), the largest insurance company in Suriname and has been in business since 1889 when the Dutch Insurance Company established its first subsidiary in Suriname.