Dialysis machine donated to GPHC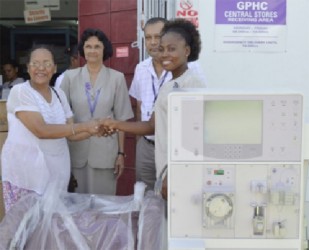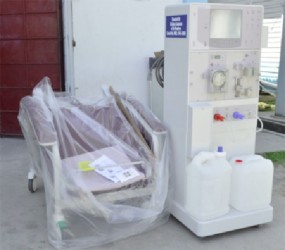 A dialysis machine valued US$38,000 was yesterday donated to the Georgetown Public Hospital Corporation (GPHC) in the name of late Krishna Samaroo of De Kinderen, West Bank Demerara. The Government Information Agency said that the machine was handed over to the hospital by Samaroo's sister Tara Mohamdee at the GPHC Central Stores Receiving Area.   Samaroo died in 2008. According to his sister, no one knew his cause of death, however in his memory, the family wished to make donations to several institutions, starting with the GPHC.
Nurse in charge of the Renal Department at the GPHC, O'Delevana Kennedy expressed satisfaction on behalf of the hospital for receiving the equipment. She said that the hospital is currently operating on a four-machine unit and with the addition of this new piece of equipment more patients needing kidney dialysis can be facilitated.
Most Read This Week