Fingerprints lead to suspect in murder of North Ruimveldt woman
A man is expected to appear before the court shortly after police were able to match his fingerprints to those found at the scene of the murder of a North Ruimveldt woman.
Crime Chief Leslie James yesterday confirmed that the use of the Automated Fingerprint Information System has resulted in the arrest of a suspect in the March murder of 75- year-old Joyce Lewis.
James explained that at the murder scene the police were able to uplift some evidence inclusive of fingerprints. He said that the fingerprints were subsequently entered into the fingerprinting system. He said that recently, police arrested a man who was accused of snatching a chain. The man was later released. According to James whenever persons are arrested particulars pertaining to their fingerprints are entered into the system. He said that the information pertaining to the accused chain snatcher was entered into the system and "we subsequently found a match".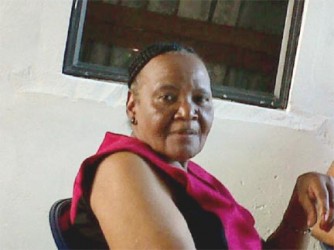 James stated that after finding the match, the suspect was sought and at the time of his arrest he was found to be in possession of an illegal firearm. He said that police are now looking to have him prosecuted for murder, unlawful possession of a firearm and whatever other offences he can be charged with. He stated that advice is being sought.
Quizzed about the number of successes police might have had using the system, he said that there have been arrests in a number of cases and while he could not give a number he said that he knows of at least four cases that were being investigated in which arrests were made.
Among the success stories is the 2011 murder of Robb Street pharmacist Harold Rachpaul age 84. Earlier this year Orin Kevin Roberts was arrested after police were able to match his fingerprints to the scene using the fingerprint system. He was charged and less than two weeks after the preliminary inquiry (PI) started, Roberts was committed to stand trial in the High Court. There have also been a number of break and enter matters as well as at least two murder cases where this fingerprinting system has proven to be useful.
Asked about the training of ranks to effectively use the system, James told Stabroek News that a number of ranks have been trained in this regard. He adding that there is at least one rank in each division who is trained in the use of the system. Based on what was explained there would be ranks in the various police divisions who would enter persons' fingerprints into a component of the system which is connected to a mainframe located at police headquarters, Eve Leary. He said that there are officers at headquarters who are trained to do the fingerprint matching. He said that whenever a match is found the respective division will be contacted and the necessary information gathered to lead to an arrest.
He stated that so far there has been no report of any challenges with the use of the system. He said that it is a system where "we are above board. Where we have high integrity".