Taymouth Manor woman succumbs after collision
Chandanie Dass yesterday succumbed to injuries she suffered after her car collided with another at Annandale Public Road, Essequibo Coast on Saturday evening.
Others injured in the accident remain hospitalized.
Dass, 30, of Taymouth Manor had several fractured bones and was also being treated for respiratory distress caused by a collapsed lung suffered as a result of the accident. She died yesterday morning at the Georgetown Public Hospital's Intensive Care Unit. She was the driver of motor car PRR 9027 which collided with a car – PSS 3067 – driven by Nicholas Singh, 19, of Abrams Zuil, Essequibo Coast.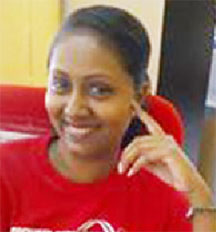 Still hospitalized at the city hospital are Pooranadai Dass, 24, who was an occupant of Chandanie's car. Krishna Ramsamuj, 18, Teron Kumar, 22 and Shane Kumar, 24, all of Annandale and occupants of Singh's car also remain hospitalized at the Suddie Hospital.
Stabroek News learnt that Chandanie, who is the manager of the Courts Essequibo branch was proceeding north on the western side of the road when she was reportedly blinded by the bright lights of the other vehicle. The two cars collided in the centre of the road.