UG worker dies after throat cut in road accident
Latchman Sukhdeo, a University of Guyana (UG) employee, is now dead after his jugular vein was severed in an accident along Dennis Street, Campbellville.
Sukhdeo, 51, of Station Street, Kitty reportedly died following a collision with a forklift truck yesterday morning around 9am. At the time of the accident, the machinery was being operated by a staff member of Crown Mining Supplies, when Sukhdeo rode into it with his motorcycle, CE 6405.
According to Sukhdeo's brother, the man would usually travel along the lesser-used roads such as Dennis Street to get to work. "As he was approaching the Crown Mining business, there was a forklift coming out of the yard and it had some mesh on it," the man's brother said. He continued, "I don't know he came into contact with the mesh… but it severed his jugular artery, causing his blood to pour out. We couldn't get him to the hospital in time."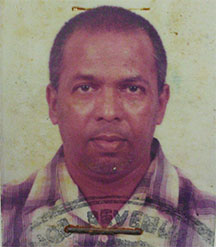 The man was rushed to a private hospital, where he later succumbed to his injuries.
Sukhdeo's brother said that they are yet to speak with the owner of the company. However, he said, "We're not asking them for handouts or anything."
When contacted yesterday, representatives of the supplies company declined to comment.