Wismar man accused of shooting at cops remanded on weapon, ammo charges
A robbery suspect, who was shot during an armed confrontation with police last year, was finally arraigned yesterday on charges of illegal possession of a gun and ammunition and shooting a man.
Lloyd Johnson, 39, of Lot 184 Wismar, Linden, stands accused of having a .32 revolver in his possession on November 26, 2013, at Liliendaal, East Coast Demerara, without being licensed to carry the weapon. He was also accused of having three .32 rounds of ammunition as well as discharging a round, shooting Leslie Eastman, with the intent to maim, disfigure, causing grievous bodily harm.
However Johnson was not required to plead to the indictable offences, when the charges were read to him by Chief Magistrate Priya Sewnarine-Beharry yesterday.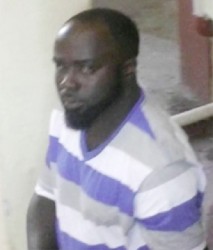 The court heard that that the police, acting on information, went to the defendant's home at Liliendaal on November 26, and met him. According to police prosecutor Michael Grant, Johnson drew a gun from his waist and discharged rounds at the police. He was then shot and later hospitalised, Grant added.
The court heard that after being released from the hospital, Johnson was placed on bail pending the conclusion of the investigations. However, Grant said all attempts made by the police to contact Johnson when the investigations were completed were futile. It was not until Tuesday, August 5, when he showed up at the Criminal Investigation Department (CID) headquarters to claim his bail money that Johnson was arrested and slapped with the charges, Grant told the court.
However, Johnson's attorney, Denise Hodge, told the court that her client was conversing with other persons when the police approached him. Hodge told the court that her client "like any other individual" became afraid and ran from the police.
Johnson she added was then shot by the police. She further mentioned that her client "recently went into the interior" to work, contrary to the police's assertions that he was unreachable since he was discharged from the hospital.
Hodge made a failed bail application. She told the court that her client was informed by the police that he was wrongfully shot by them and that no charge would be levelled against him.
Grant in reply told the court that the police never had such an arrangement with the defendant.
He objected to bail, while stating that extreme violence was used during the commission of the crime and that Johnson went missing after he was discharged from the hospital. Johnson's admission to a previous charge also did not aid his bail application.
Subsequently, the Chief Magistrate remanded Johnson to prison and transferred the matter to the Sparendaam Magistrate's Court, where it will be called today.