Project launched to extend West Dem Secondary
-planned Parfait school to accommodate 1,000 students
A $22.6M project for the extension of the West Demerara Secondary School was yesterday launched and is expected to be available to students within a year.
The project will see the addition of a two-storey building, which will house six new classrooms at the Region Three school. The extension is expected to accommodate 180 students at the southern part of the existing building and will also be user-friendly for the disabled, in compliance with the Disability Act.
According to Education Minister Priya Manickchand, the extension is part of the ministry's drive to promote universal secondary education in Guyana and the overall development of the country. Though there is universal primary education in Guyana, the minister said, the goal has not yet been achieved at the secondary level.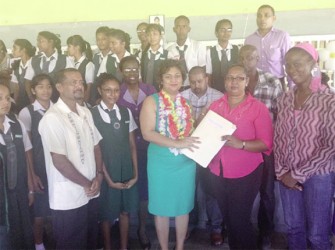 "Education for the Government of Guyana is extremely important," the minister said. She went on, "the only way we can change the lives of people – individuals and families and communities – is if we invest in education."
The project is expected to be completed in five months with a six-month defects liability period to assess the contractor's work. The contract for the project was awarded to the Vision General Construction Services.
Present at the launch was the company's contractor, who was sternly warned about the importance of the project. "We want you to understand that this is a community project; the community owns this project and they will be checking on you and you have a duty to accommodate that monitoring of what you're doing," Manickchand said. She continued, "All we want to do is make sure you do good work… this is a school, it is an A list school… children are leaving here with 10 and 12 and 14 CXCs [subjects]… and if you don't do good work, you rob them of that ability. So, it's important that you do good work."
Manickchand also revealed that three new secondary schools are in the works to be built. These schools will be commissioned at Parfait Harmonie, Leonora, and Soesdyke. The Parfait Harmonie school is expected to accommodate at least 1,000 students, she added.
Most Read This Week