Vanessa Kissoon still to respond to disciplinary recommendations
The Disciplinary Committee charged with investigating the incident that led to Vanessa Kissoon's suspension from the People's National Congress Reform (PNCR) has forwarded its recommendations to Kissoon and is currently awaiting a response.
Kissoon, an APNU MP, told Stabroek News yesterday that she was not prepared to comment as yet on what her decision will be.
Leader of the PNCR, David Granger had told Stabroek News last week that Kissoon had been formally written to since the week prior.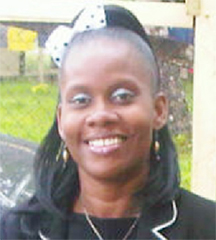 Granger said that Kissoon's suspension was lifted for her to attend the PNCR's 18th Biennial Congress held July 25-27. After the Congress however her suspension was reinstated with the Disciplinary Committee providing Kissoon with recommendations.
Granger stated that once she responded then the matter would be taken up by the Executive. He noted that there was no deadline given for her to respond formally and could not state what the outcome would be should Kissoon fail to agree to the findings of the committee.
He also offered no other comments in relation to General Secretary of the party, Oscar Clarke given his involvement in the incident which eventually resulted in Kissoon's suspension.
The party has been criticised internally for actions taken against Kissoon as none was taken against Clarke. The party's handling of Kissoon's suspension has been marred by what many critics have noted was a lack of cohesion. Kissoon's suspension was one of the many reasons the PNCR delegates from Linden chose to protest over at the opening of the Congress last month.
Following an altercation between Kissoon and Clarke at the party's Congress Place headquarters, in Sophia, Kissoon was notified of her suspension via an email dated June 24. The altercation was fuelled by differences over the use of the PNCR office in Linden. Apparently, locks on the facility were changed, leading to the altercation involving Kissoon.
Kissoon has alleged that she was assaulted, while Clarke has refused to comment on the altercation.
She did not appear before the committee hearing, therefore decisions were made without her presence and forwarded to her.