No lead yet in gunning down of GWI employee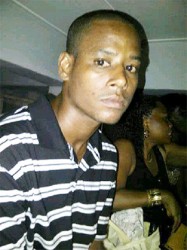 Police investigations into the shooting to death of GWI employee, 29-year-old Marvin Cumbermack, are yet to yield results.
Cumbermack was gunned down around 21:00hrs in Sophia on Monday night after he put up a fight against a gunman who demanded he hand over his motorcycle. The gunman, who had approached Cumbermack with a bicycle, then made his escape on the dead man's motorcycle.
Crime Chief Leslie James told Stabroek News yesterday that the person responsible for the shooting was still at large as the Guyana Police Force is yet to determine his identity. Further, no one has been named a suspect in the matter.
Claire Carrington, Cumbermack's mother, told this newspaper yesterday that her son probably resisted the robbery because he was strong-headed, and because he had purchased the motorcycle with the small inheritance his father left him when he died about four years ago.
Most Read This Week