Driver jailed for absconding with boss's gold, diamonds
A driver, who admitted that he took in excess of $1M worth of gold and diamonds instead of delivering them to his boss, will be spending the next three years in prison.
Franklin Peters, 47, of Station Street, Kitty, Georgetown, accepted that after being entrusted with 30 ounces and 12 pennyweights of raw gold and 17 carats of diamonds, valued at $1,140,000, he fraudulently converted them to his own use and benefit instead of delivering them to the owner, Clive Obermuller.
Prosecutor Deniro Jones told Magistrate Ann McLennan at the Georgetown Magistrates' Courts that Peters,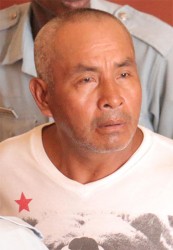 who is also a miner, worked with Obermuller, who owns a dredge in the interior.
He said that between September 1 and September 30, 2013, at Essequibo, Peters was travelling out of the interior to Georgetown and was given the gold and diamonds to deliver to Obermuller, who was also in Georgetown at the time.
The court heard that the items were, however, never delivered to Obermuller.
According to Jones, after Obermuller reported what had occurred, Peters had managed to evade police capture until Tuesday.
It was then that Obermuller spotted him in the Stabroek Market area.
The court was told that the police were then contacted and Peters was taken into custody and admitted to the crime.
The magistrate subsequently informed Peters that he would be imprisoned for three years.