Laing Avenue women fined for cursing cops during search
Two women brought before the courts on disorderly behaviour charges were yesterday fined and sternly warned after they admitted to hindering a police search on their premises.
Lakesha Schultz, 23, and Tanesha Williams, 24, both pleaded guilty when city magistrate Ann McLennan read their charges to them. It is alleged that the women, on August 14 at 4A Laing Avenue, behaved in a disorderly manner.
According to Prosecutor Deniro Jones, police ranks from the Narcotics Branch were in the Laing Avenue area conducting raids. Acting on information,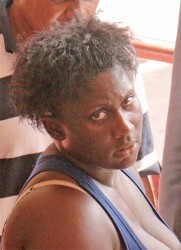 the ranks went to a home where the defendants were. Head of the search party Detective Caesar informed Williams, who answered the door, that a search was requested.
However, Williams stepped into the yard and objected to the search. She then proceeded to curse the officers.
Jones went on to say that a number of persons gathered and shortly afterwards Schultz came out of the home and also cursed the officers, while loudly objecting to the search. The women were both arrested and subsequently charged.
In their defence, attorney Mark Conway said his clients had no antecedents and had apologised to the officers prior to their arrests. He added that his clients had meant no harm nor disrespect.
After hearing the facts, Magistrate McLennan advised the women to allow the police to do their jobs.
"This is the same police that, when you are in trouble or need help, you call and expect them to respond to your needs," the magistrate pointed out.
Schultz, a mother of two young children, and Williams were fined $5,000 each or an alternative of seven days in prison. They were also bonded to keep the peace for a year.