Three Guyanese jailed in Ghana over cocaine
Three Guyanese who imported 414 kilogrammes of cocaine into the West African country of Ghana were yesterday jailed for a total of 34 years with hard labour by the Fast Track High Court in Accra, according to the Graphic newspaper.
Its online version said that Percival Junior Court, an engineer; Samuel Monty and Singh Princhad (it appears that this name has been misspelt), both seamen, were found guilty on three counts of engaging in criminal conspiracy, importation of narcotic drug without lawful authority and possession of narcotic drug.
Court, 53, and Monty, 47, were jailed for 12 years on each count, while Princhad was handed a 10-year jail term.
On January 7, 2014, the Graphic said that the court had sentenced two accomplices of the convicts to a total of 35 years' imprisonment in the same matter. The two were Miller Ronald O'Neil, the captain of the vessel, and Seth Grant, a Ghanaian based in Brazil.
O'Neil was slapped with a 20-year jail term, while Grant will be incarcerated for the next 15 years.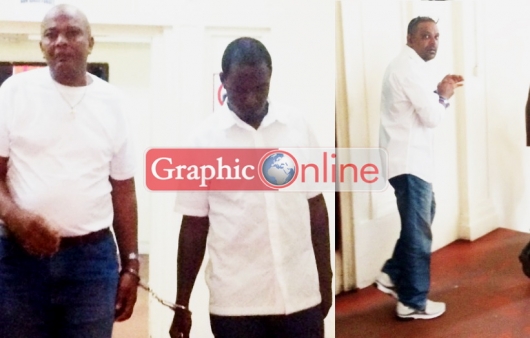 The presiding judge, Justice Clemence J. Honyenuga, ordered that the vessel which transported the drugs to Ghana on November 19, 2013 be confiscated to the state. The Atlantic route to West Africa has been used increasingly in recent years by South American drug cartels.
The vessel is the MV Atiyah Ex-Alisam, with registration number 000471.
The Graphic said that the court took into consideration Princhad's health status before sentencing him. He was said to be suffering from hypertension, diabetes and an ear infection.
In its two-hour judgement, the Graphic said that the court ruled that the prosecution was able to prove that the convicts had a "co-ordinated and well-calculated travel arrangement to carry the cocaine to Ghana".
The trial judge said the convicts had confessed to committing the crime in their statements to the police and noted that those statements could have been relied on by the court without any evidence being adduced.
The prosecution, it noted, led incontrovertible evidence to substantiate that each of the convicts dealt directly with the owner of the cocaine, nicknamed Fatman, who had since fled.
It said there was evidence that the convicts stopped on the high seas to offload the 414 slabs of cocaine into the vessel.
A search on the vessel when intercepted off Ghana revealed 21 fertiliser sacks smeared with engine oil containing 414 slabs of a compressed substance. A field test done, the Graphic said, indicated that the substance was cocaine.
At the time of the arrest, O'Neil, the captain, said the drug was to be delivered on the high seas for a fee of $50,000, while the rest of the crew was to take various sums of money.
See more at: http://graphic.com.gh/news/general-news/28937-3-guyanese-jailed-34-years-for-importing-cocaine.html#sthash.rBbY98Bw.dpuf